LED Lighting Control Made Easy
Introducing the GEFL-PB, a flush mounted PIR movement sensor with push button functionality.
We get many queries regarding an easy LED lighting control system. You won't find anything easier than this! Simple energy saving technology for the home or the workplace.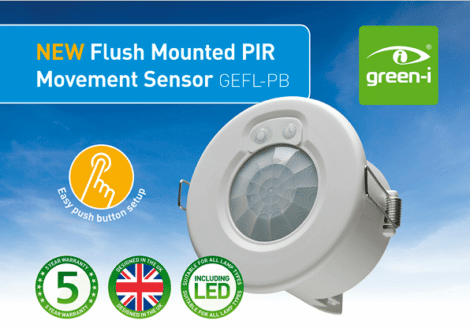 Easy To Install – Easy to Set Up
Start saving energy with a very low investment
Movement sensor auto on/auto off
Works with any type of lamp
Switches any type of load
Lux level sensing
Range up to 6m at 2.8m mounting height
Adjustable timer (1m-30m)
Simple Installation + Set Up
Load Rating at 230VAC:
Resistive = 8A
Incandescent = 8A
Fluorescent = 4A
Compact Fluorescent = 3A
LED = 3A

Download User Guide
We can also assist with LED lighting control as part of an overall lighting control system, including DALI addressable systems. Give us a call to discuss your needs.