New and emerging technology makes even more complex the choice of products and the process of 'integrating' them to create an intelligent building integration system.
Our company has many years of experience in creating smarter buildings.
We work with a number of manufacturers to ensure the systems we design and commission are robust, have longevity, and most importantly, local support.

Building Automation Systems
Sometimes known as a 'Building Management System', or 'BMS', a Building Automation System can be a powerful resource for monitoring and controlling all energy usage in a building and reducing energy wastage and costs. To work in this regard it must be integrated well with all building services.
User Friendly Dashboards
If building integration has been set up well, dashboards providing visibility on the building's energy use and performance will allow the facility manager to see at a glance how the building is functioning, and to run reports to confirm those findings.

Connecting & Automating
For an environment to be truly intelligent, it needs to react, seemingly intuitively, to the needs of those using the space.
To do that all the elements in a building need to be fully integrated so that the building can respond seamlessly and automatically to the occupants' needs.
"Building Integration" is the glue that sticks all the building services together, and allows them to operate as a single system. Lighting, heating or cooling, can "magically" turn on in various areas of the building, as your people arrive in the morning. When meeting rooms are vacated, lighting and HVAC automatically turns off, reducing energy use. Bright sunlight hitting the windows may trigger blinds to close, or lighting near windows to dim down/turn off.
Booking the space can schedule the set up of the boardroom for a presentation: blinds close, lights dim, screen drops down, projector turns on, etc. When the booking expires, the room returns to normal usage.
As your staff leave, the building 'closes down' in each area as it is vacated, but safe pathways of light provide access out of the building and to parking areas.
Past Projects
View all projects >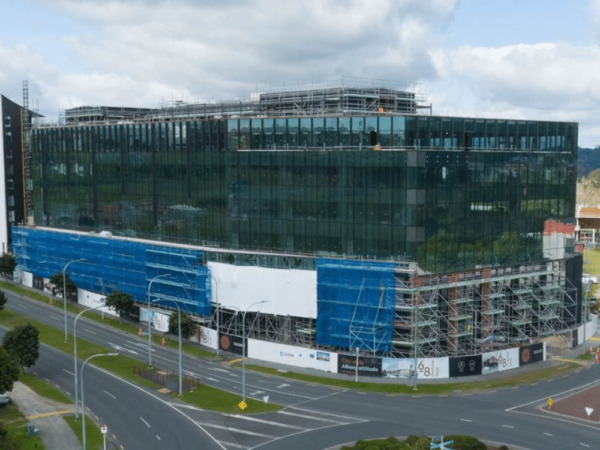 6-8 Munroe Lane, Albany is a brand new 26,500m2 (GFA) commercial office development consisting of 1.5 levels of basement and 6 levels of A-grade commercial office space.