Building Control System
The Indoor Courts Centre at Bruce Pulman Park is a magnificent new sports facility with six indoor netball courts, as well as catering for basketball and volleyball. For big matches the centre can be transformed to one court with grandstand seating on two sides.
More Than A Lighting Control System
Intelligent Environments Ltd have worked closely with the electrical contractor, B W Henderson Ltd to provide a building control system that not only controls the lighting, but also the hoops for basketball, along with the nets and curtains for Futsal.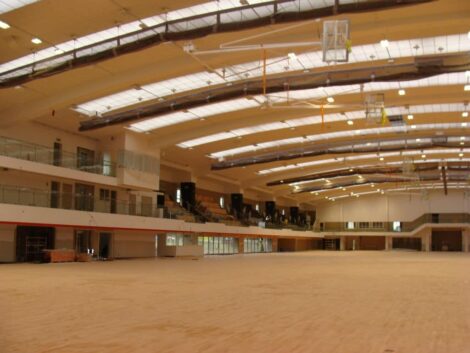 The centre also required the ability to set up the indoor courts for the various sporting codes with a graphical interface for each of the multiple courts to provide ease of control for the respective lighting, hoops, etc. The client required three different levels from practice through to regional level games.
The scale-able lighting control system had to be able to expand with the changing sports environment, provide additional control for hoops, nets, etc as mentioned above, and provide interfaces with security and fire alarms, and with the mechanical BMS.
The installation of a C-Bus control system along with DALI controls allowed for all these requirements, and could also be linked with third party software to provide desired graphical interfaces on notebook type portable screens, as well as the main controls PC.
In offices/boardrooms occupancy sensors have been installed to activate air-conditioning and fresh-air fans.
This additional facility at the renowned Bruce Pulman Park will be a major asset for Papakura, and for Auckland.