DALI Broadcast
When control of a room or specific area is needed, but no grouping of lights is required, then a very simple system can provide the required control. Various options of DALI broadcast controllers can control from 1 to 100 drivers on a single DALI line/universe. This allows 'group' control via a rotary switch, push button, scene control, or similar.

No Commissioning Required
With DALI Broadcast Control, as no individual addressing is possible, no on-site commissioning is needed. Additionally if a driver needs replacing at a later date, again, no programming/commissioning will be necessary. It is a straight forward hardware replacement.
Simple DALI Solution
Using DALI Broadcast Control allows DALI light fittings to be utilised easily where a simple solution is required. Such a solution could be compared to 1-10v or DSI controls, that have more recently been superseded by DALI systems.
Return to main lighting control page.
Past Projects
View all projects >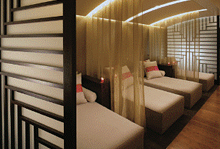 High level design and programming was required for this project as each consulting room was to be used in a variety of different ways. Intelligent Environments Limited were called in by the electrical contractor to provide the level of expertise required to ...