Chillex Services Ltd design and build air-conditioning systems for commercial and industrial projects. Intelligent Environments Ltd were contracted to provide and programme the lighting controls at their new office building refurbishment in Rennie Drive, Mangere.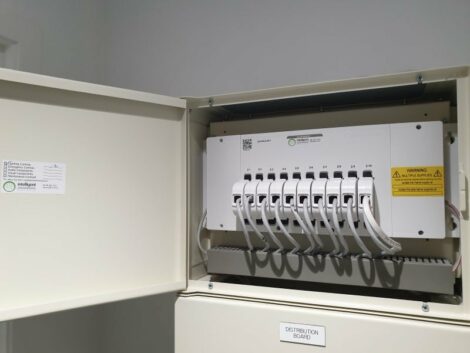 A plug and play lighting control system was installed by the electrical contractor. This type of system reduces the cabling and installation time for the electrical contractors but still allows comprehensive control of all DALI and other devices. The plug and play lighting controllers can be installed locally or in the distribution board.
Control at the Chillex offices is via presence and absence detection, with additional lux level control to reduce lighting levels or turn off interior lighting when sufficient daylight is available. Local control is also provided via rotary dimming switches, and scene plates with pre-set lighting scenes where required.
The plug and play lighting control system also interfaces with the security system. When the building is alarmed, any remaining lights are switched off. When the building is disarmed the lights turn on.
The system also incorporates cloud-based control, and schedules were set up to allow the client to manage the system themselves. Remote control via the cloud also provides ease of maintenance with remote support.
Read more about plug and play lighting control or cloud control and remote management.