Wireless Control for Lighting at Petone FC Turf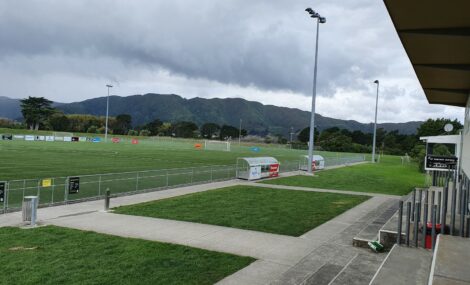 Intelligent Environments Ltd were approached to provide lighting controls at the Petone Football Club turf.
The lighting controls upgrade was funded by Capital Football in preparation for utilising the ground as a training venue for the upcoming 2023 FIFA Women's Football World Cup.
The existing lighting at the ground comprises six lighting towers. The corner towers have three lights, and there are six lights on the central towers. Control is provided via three main contactors, each contactor controlling a light on each of the corner towers, and two lights on the central ones.
The wireless control upgrade connects a zencontrols lighting control system to the Petone Football Clubrooms network, enabling cloud-based programming, control and scheduling.
A schedule turning lights on and off is easily edited through an Android smartphone or web browser.
The"lights on" schedule is controlled in conjunction with a light level sensor ensuring lights only turn on when natural light falls below a pre-set level.
The "lights off" schedule turns the lights off at a defined time but a staggered "off" command to circuits allows players and coaching staff time to pack up and exit the turf before all lighting turns off.
Editing of schedules, changing levels of lux sensors, programming changes, manual control: all are achieved via the internet from any location where internet access is possible. Different user logins can be set up with the individual rights and privileges required.