DALI-2 zencontrol System for the Lumley Centre
The Lumley Centre is located on the former Northern Roller Mills site between Shortland and Fort Streets, in downtown Auckland. Also known as NRM Tower as the historic building (1860-2000) was incorporated into the base of the new Tower.
With its distinctive "sail" motif, Lumley Centre became a large scale sculptural element for downtown Auckland. The intention of the architects who designed the Tower, was to celebrate Auckland as one of the finest yachting environments. A statement that with our recent America's Cup victory, is as true now, as it was then.
Intelligent Environments worked with the building owners and electrical contractors to determine the best way forward to incorporate reliable building technology that could utilise the existing cabling, but provide improved and more robust functionality that could link to the building BMS. A DALI-2 zencontrol system was decided upon.
The initial project was to upgrade all the lift lobbies and car park lighting. This was followed by a major refurbishment of the Fort Street entrance.
We continue working to upgrade a number of tenancies where fitouts are planned, or are already underway.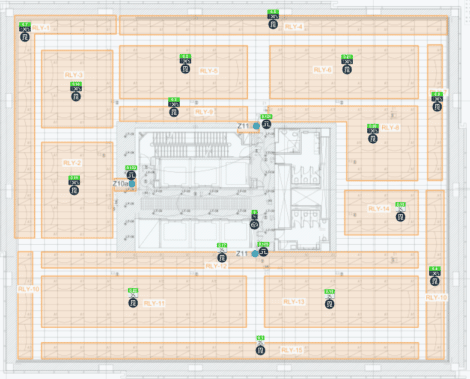 For example a DALI-2 zencontrol system has been installed for levels 14 and 15 in the Lumley tower. This is basically an extension to the already existing DALI-2 zencontrol lighting system for the landlord areas and corridors.
Relays control the lighting with a time clock. zencontrol scene-set switches have been installed to give the tenancies a modern look and feel.
The client also can remotely adjust the time schedules and lighting using zencontrol cloud or a mobile phone app.
zencontrol also has a visualization software available on the cloud called "Plan View" which can be used to provide a visualisation of the entire Tower and the status of the control system(s).
This type of easy visualisation is proving very popular with building owners and facility managers as they can quickly and easily identify faults and their locations. Additional add-ons can be purchased at any stage to give the facility managers more insights into the building.
This includes: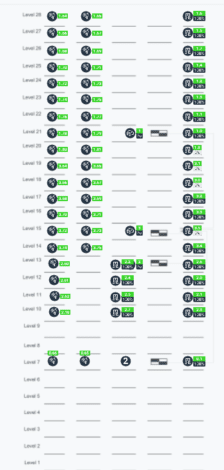 Issues Dashboard: This allows the maintenance teams to track the system performance and building health over time with a range of reported issues like device failures, battery failures etc.
Power dashboard: With zencontrol's Power analytics, the power consumption of all compliant DALI-2 devices is tracked to provide accurate and encompassing data.
Heatmaps: An occupancy heatmap overlay over the zencontrol Plan view provides an easy way to understand the most utilised areas and the flow of people throughout the day.