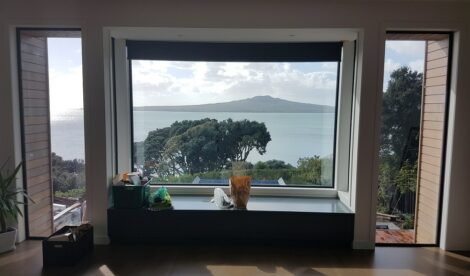 This amazing huge site on a North Shore clifftop was where the current homeowner grew up (albeit in a somewhat more modest dwelling than the one he is building now). He came to Intelligent Environments with the plans for the couple's new house wanting assistance initially on setting budgets for their intended 'Smart Home'. The couple needed to know what they should allow for elements such as a home automation system, a dedicated media room, multi room audio, security system, intercom system, and more.
Although the house without doubt, will be a significant property, and a substantial investment for this young couple as they start their family, the spec for their new smart home was all about practicality and convenience. They enjoy entertaining friends, and the media / games room will certainly be a focal point for those events, but the sub-systems installed in the home are not ostentatious, just designed to make life simpler and more comfortable when living in and maintaining a large property.
A robust, secure and comprehensive data & WiFi network thoughout the house has allowed the owner to run his high powered business from home. He is enjoying the easy to use interface with the music system, and comments on how much more he is using the system, compared to in his previous home where it was all just too complicated!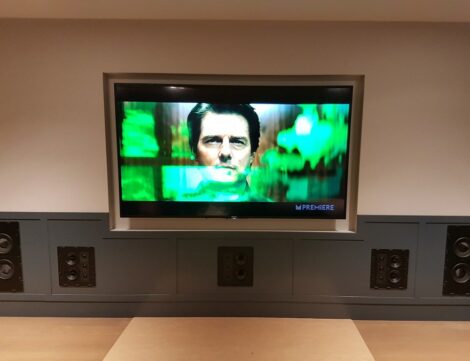 The one area that has received greater focus (and budget) is their home theatre. This will provide an area where this dynamic young couple can chill out, and then return with vigour to deal with any challenges life throws across their path.
DALI lights have been used predominantly throughout the home. A DALI system controls the lighting. The advantages in a large home for a DALI system are similar to those when DALI is used commercially. The lights can be wired in any way, circuits don't actually matter, as potentially each DALI light can be controlled via programming, rather than by the circuit it is part of. For the small number of lights that are not DALI, we have supplied DALI relays or phase dimmers that reside on the DALI line but allow control of these non-DALI devices.
C-Bus has been used to control the DALI system, to control louvres and underfloor heating, and to interface with the Elan system which provides intuitive, personalised and overarching control for the entire home with exceptional easy to use controls via touchscreen, iPad and smart phones.