Auckland Girls Grammar School Lighting Control – Wireless Upgrade for DWC Theatre
The request was to provide control for the existing lighting in the Dorothy Winstone Centre Theatre at Auckland Girls Grammar.
The DWC Theatre belongs to the school, was built in 1988 and was named in honour of Dame Dorothy Gertrude Winstone.
As well as being used by the school, it is available for hire, and with a capacity of 795 seats is very popular with a need to book well in advance!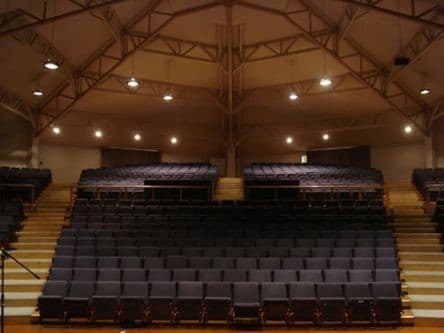 As the existing lighting in the Theatre was DALI, providing a retrofit solution for this school lighting control project was very simple, particularly with the availability of wireless componentry for a zencontrol system.
zencontrol systems, whether standard or wireless, comply with the current lighting control standard for Australia and New Zealand (DALI is currently the only AUS/NZ lighting control standard).
A zencontrol wireless application controller was installed by the electrical contractor, along with wireless bridges for all existing lighting, and a 4-key scene panel to provide the required control functionality.
The system was then programmed by an IEL controls specialist to provide the controls required.
All lights above the seating area in the Theatre are operated via the scene panel to allow:
All on, and all off control.
Pre-set scenes at 40% and 5% dimmed
Dim up/dim down/off
Wireless technology provides the ability for simple and low-cost school lighting control upgrades using existing lighting, and without the need for the disruption of running additional cables.
In fact zencontrol wireless controllers and other components can provide seamless retrofit lighting control solutions for almost any building.
If you have a building that requires a retrofit solution for lighting control, speak to us today.
► Electrical Contractor: Ward Chandler Electrical
► Wireless lighting control system: zencontrol, supplied and programmed by Intelligent Environments Ltd