DALI dimming / DALI RGBW control / Phase Dimming for Te Tāhuhu o Te Rangi
The community hub at Opotiki (Te Tāhuhu o Te Rangi) opened formally with a dawn blessing on 2nd December 2021.
The project to build this Technology and Research Centre was many years in the making. The facility includes the library and digital hub with services encompassing digital support, room hire, wifi, online and physical resources, books, movies, devices, events and activities.
The shared courtyard space (previously an access lane) provides opportunities for events, exhibitions and wānanga in collaboration with the neighbouring Arts Society and other local organisations.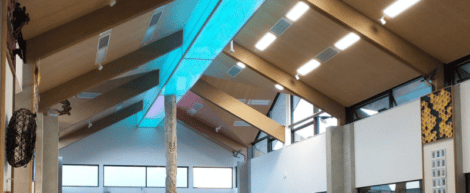 Architect Stapleton Elliots' design features a translucent tāhuhu (ridge pole) that runs the length of the building. The DALI RGBW lighting for this tāhuhu was an important element for the lighting control spec.
Whakatōhea kaumatua, Te Riaki Amoamo, gifted the name 'Te Tāhuhu o Te Rangi' to Council in 2016. The tāhuhu of the wharenui is the traditional library, or storehouse of knowledge, on the marae.
The building's skylight tāhuhu is said to allow the wisdom of the sky father, Ranginui, to flow into the building, hence the beautifully appropriate name: 'Te Tahuhu o Te Rangi'.
The control system to operate the lighting for the building is zencontrols DALI 2 which controls DALI, DALI RGBW, and provides 0-10V phase dimming. A central touchscreen allows for manual dimming and DALI RGBW control of the lights.
The addressing of the DALI lights on site was undertaken by Sam Mathis of Guild & Spence Electrical Ltd, with remote assistance from Intelligent Environment's Wellington office. Further grouping and full programming of the DALI using the zencontrol system was completed remotely by Intelligent Enviroments Ltd.