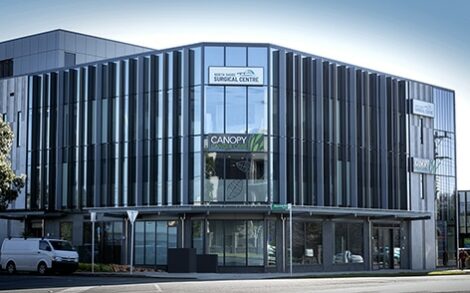 Intelligent Environments Ltd were contracted to supply and commission the controls for the DALI lighting system at this three-storey surgical centre at 213 Shakespeare Road on Auckland's North Shore. The day-stay hospital has three operating theatres and specialises in performing keyhole orthopaedic surgery using state of the art equipment and the latest techniques.
The building at 213 Shakespeare Road mirrors the design of the adjacent TRG imaging building. Intelligent Environments Ltd also supplied and commissioned the control system for those premises.
A C-Bus control system was provided for the core building controls along with localised occupancy and dimming of the tenancy lighting on levels one and two.
Exterior lights are controlled via timeclock schedules. The carpark lighting also has intelligent PIRs installed for more comprehensive control.
Intelligent PIRs were also used to control stairways and reception areas for the tenancies.
To provide localised control for the tenancies of the DALI lighting system, rotary dimming switches were provided. After hours the floors are controlled by occupancy sensors, lighting, therefore, coming on only when an area is occupied.
The DALI lighting system is also interfaced with the security system.
A graphical interface was supplied to provide the ability to adjust schedules.
Read more about DALI lighting systems