Emergency Lighting Requirements for New Zealand
In New Zealand commercial and industrial buildings are required by law to have compliant emergency lighting. It is of utmost importance therefore that building owners, facility managers, emergency lighting and control system suppliers, installers, and all others involved in the industry have a solid understanding of emergency lighting requirements and their obligations under law.
Emergency lights must indicate the nearest exit and provide sufficient illumination to guide building occupants to safety in the event of a mains power failure.
For emergency lights to function during mains failure, they must immediately switch to their back up battery. It is important therefore (and it a legal requirement) that emergency lighting and the associated batteries are tested regularly (currently every six months) and any issues with emergency ballasts, drivers or batteries are dealt with promptly.
Some lighting control suppliers have offered the ability to monitor emergency devices but these systems have been locked away behind proprietary standards.
In November 2020 DALI-2 was adopted as the first, (and at time of writing the only), AU/NZ lighting control standard. It is important that those involved in the industry understand the new emergency lighting requirements covered by the standard. The new standard means compliant systems no longer have a proprietary lighting control wired bus, or proprietary wireless protocols. The DALI-2 standard defines an open DALI-2 bus, and DALI-2 wireless protocol where certified DALI-2 multi-vendor sensors and switches can communicate to a control system in both a wired and wireless manner. In addition to lighting control, the standard covers emergency lighting (AS/NZS 62386-202).
As the DALI emergency standard is not a proprietary standard it allows all DALI compliant emergency lighting to work together on the same line.
The DALI Emergency Standard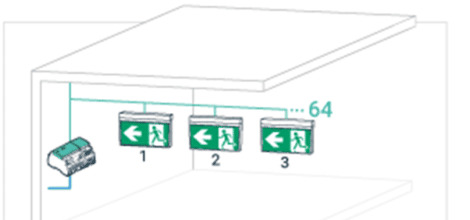 The DALI emergency standard allows for emergency devices to run two key emergency tests as well as feeding back many other pieces of important information.
The requirements for DALI emergency control are almost the same as those of normal DALI devices, and can be summarised into the following items:
• DALI power supply
• DALI emergency device
• Control system that can communicate with DALI emergency devices.
FUNCTION TEST
A test designed to quickly check the unit's functionality. During this short test the unit is able to check that the battery, lamp and circuitry are all working correctly.
The result of this test is stored and can be returned to the control system when required
DURATION TEST
This is the most important test for an emergency device. It allows the device to change to emergency mode and discharge its battery.
During the test period, the device checks the status of the lamps, circuit and battery, to ensure all is working correctly. The result of the test is stored and can be returned to the control system when required.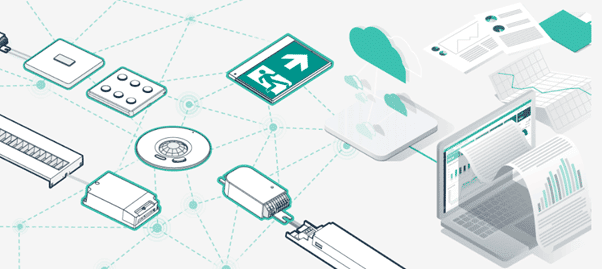 Why DALI Emergency?
DALI emergency lighting is a cost effective monitored emergency system. Not only do DALI emergency systems meet all emergency lighting requirements for New Zealand and match the traditional monitored systems in functionality, they better them!
DALI emergency can be a standalone monitored emergency system or used in conjunction with standard DALI devices therefore reducing wiring. Moreover, the amalgamation of two independent control systems (emergency and normal) into a single control system decreases installation and maintenance costs, and the ability to monitor emergency lighting and normal lighting in one step can lead to a safer lighting solution.
DALI emergency includes, but is not limited to, the following features:
All the benefits of traditional DALI devices
Lamp status (working / faulty / hours of use)
Battery status (working / faulty / charge capacity)
Allows for function tests that can feedback the condition of the battery, lamp and inverter circuit.
Allows for duration tests as required by law
Allows for an extended emergency period for use with HID lighting and other advanced lighting that do not re-strike when normal power has returned.
Online Emergency Log Books
The zencontrol cloud platform allows building owners, installers and electricians to meet all emergency lighting requirements but also monitor and control all their buildings from one secure, encrypted, convenient and easy to use interface. The Cloud represents seamless bi-directional building lighting management with a full set of class leading features. Cloud control makes commissioning and setup fast and efficient, save days and in some cases months.
With zencontrol's Planview software building monitoring, fault reporting and testing are fast and efficient.
Copy/paste existing setups to replicate setting across controlled items.
Quickly identify problem setups & issues as the Cloud alerts the user.
Shows the status of connected devices including activated lights and failures.
Control lights individually and initiate EM testing directly from the interface.