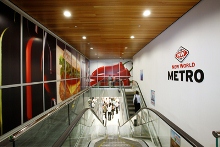 New World Metro – Retail Lighting Control System
Valentine's Day 2012 marked the opening of a brand new supermarket for Auckland's central business district.
The 1000 sq metre New World store is located below the BNZ Centre at 125 Queen Street, opposite the intersection with Shortland Street. Fresh produce is a dominant feature in this smaller format supermarket catering to office workers and apartment dwellers surrounding this busy city precinct.
Intelligent Environments were the preferred suppliers for the lighting control system for this modern urban store.
Timeframes were short: to minimise on-site time, IEL were able to pre-program the controllers to allow for immediate functionality once the units were connected by the electrical contractor.
A high priority was for automated functionality, allowing schedules to run the lighting system and thus freeing up staff to focus on other areas