Wynyard Quarter is one of New Zealand's largest urban regeneration projects, and is providing a functioning, high amenity neighbourhood of which Aucklanders can be proud. Intelligent Environments were excited to be part of the team creating this innovation community, with specific responsibility for the design and commissioning of the lighting control systems for multiple buildings within the precinct.
The 'Innovation Precinct' developed by Precinct Properties NZ, was designed to make it easier for businesses to innovate and respond to change. The precinct totals around 48,000m2 of space across multiple buildings that have rapidly become home to a range of businesses, and a hub for events aimed at inspiring and supporting New Zealand Entrepreneurs.
Mason Bros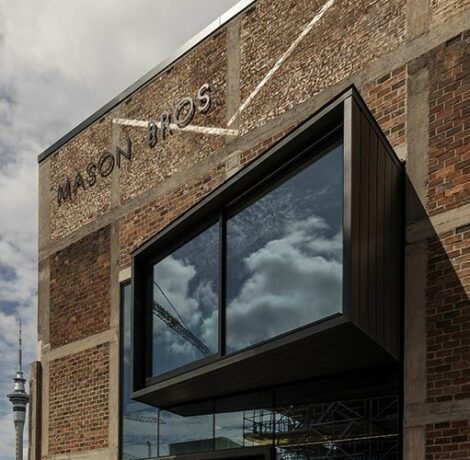 This heritage building, now spectacularly regenerated, was the first to be completed as part of the 'Innovation Precinct' and is located at 139 Pakenham Street West.
The original two-storey character building was once an engineering and ship-building workshop. Its heritage is still evident in the existing red brick and distinctive saw-tooth roof.
The regenerated building offers around 5700m2 of commercial floorspace over three levels. The refurbishment was designed by Warren & Mahoney who have moved their design practice to the Mason Bros. building – a celebration of rich industrial heritage, while pushing boundaries in terms of a contemporary workspace and innovative environment.
Mott MacDonald, the building consultants, are also now located on the top level of Mason Bros. Working alongside Warren & Mahoney their goal was to create a building that was efficient, elegant and sustainable.
IEL were proud to be contracted to provide the lighting control systems for this building, which is designed in line with the Wynyard Quarter Sustainability Framework and is 5 Green Star As-Built rated. We also supplied the audiovisual system for Mott MacDonald's tenancy.
12 Madden Street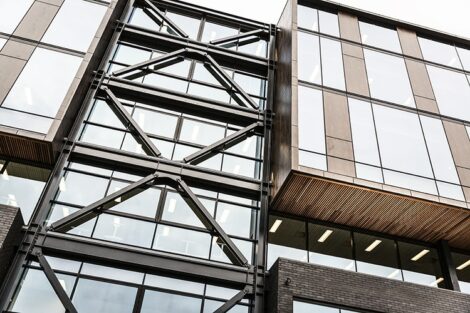 Completed in 2017, this building provides purpose built co-working space, to give innovative companies of all sizes, a fantastic working environment in which to thrive.
Operated by Generator, the building is designed to attract New Zealand's brightest talent, providing an exciting and energising culture that encourages and supports innovative ideas.
Also designed by Warren & Mahoney, with internal fitout by Jasmax, this stunning new building expands the Innovation Precinct further.
12 Madden Street was recently awarded the Sir Miles Warren Award and was the winner of the Commercial Architecture Award for Commercial Architecture at the New Zealand Institute of Architects Awards in Queenstown.
IEL was responsible for both the overall lighting control system for the buildings, and the emergency lighting control which provides automated monitoring and reporting of the emergency system.
Utilising standard control philosophies with occupancy sensing, daylight harvesting, DALI dimming and local switching, the lighting control system also provides cloud based control to allow Precinct Properties to make adjustments to the control settings for optimum building performance and increased energy savings.
Tenancies include:
Warren & Mahoney

Mott MacDonald
Grid AKLD / Ateed
Devanti
Online Republic
Google
Spark
Intelligent Environments were also responsible for the customised controls for the individual tenancies.
More Information on Lighting Control Systems