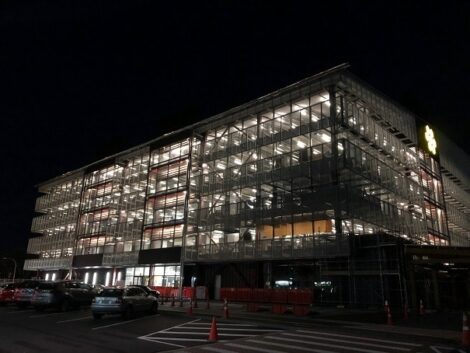 Smales Farm on Auckland's North Shore contains a collection of technologically advanced buildings. They have all been designed and built to be future-proofed and to showcase key features of environmentally sustainable architecture, with a focus on saving energy and reducing operating costs. Intelligent Environments were asked to propose suitable lighting control systems for the new B:HIVE.
The B:HIVE provides purpose built office space and state of the art meeting, event and conference facilities, along with a leafy covered lane filled with eateries and social spaces. The B:HIVE is marketed as the perfect space for businesses seeking a vibrant and exciting environment "a hub for ideas to be seen, heard, discovered, tested and ultimately realised".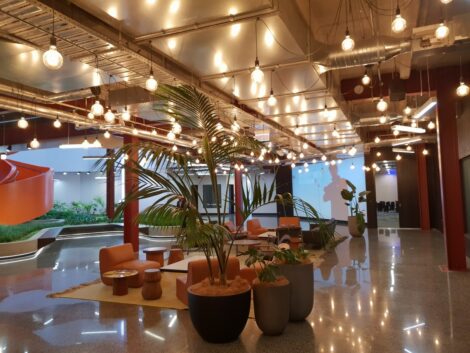 Intelligent Environments designed and commissioned the lighting control system for this innovative building.
After hours, lighting is activated by occupancy only i.e. safe pathways of light are available outside of normal working hours, without the need for entire floors to be lit. When the areas are vacated once more the lighting turns off. Absence detection is set up in ground floor meeting rooms with push buttons allowing lights to be turned on, but if the lighting is not turned off manually when the room is vacated, the lights turn off automatically. Daylight harvesting: lux levels are pre-set, to allow lighting closest to the windows to turn off when sufficient natural light is available.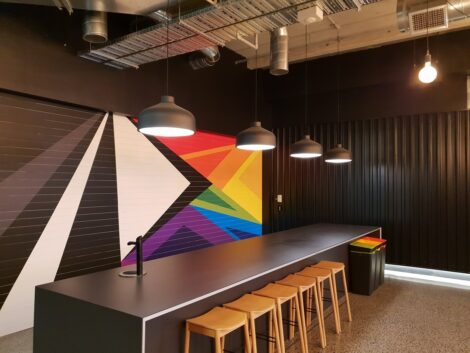 Schedules are set up for some areas of the building, with adjustment of times available for the client via a web interface. Light settings can also be overridden if required from this interface (necessary for a special event or function etc). The web access also allows for remote management when required.
C-Bus eDLT lighting control panel has been used to provide adjustment of LED colours with pre-set scenes, as well as control of specific lighting elements. With four pages of pre-set scenes/controls, and a fifth button to change the pages, the eDLT's dynamic labelling technology allows buttons to be labelled according to function – for user friendly control.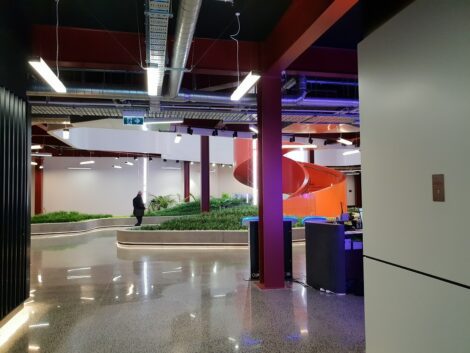 For full integration the lighting control systems sensors on tenancy floors and toilet lobbies report back to the BMS system which uses BaCnet protocol for communication with the HVAC system.
The building welcomes tenants and visitors through a large and lively reception area – always a 'hive' of activity, particularly on Friday afternoons when tenants socialise in shared spaces.
Intelligent Environments are pleased to have been involved in the construction process for this stunning addition to Smales Farm.