Commercial Bay is a brand new, vibrant, public precinct built on the axis of Quay Street, Queen Street, Lower Albert Street and Customs Street.

The name has been re-purposed from history, as it was originally the name of the bay that encompassed Auckland's original waterfront. Commercial Bay was where Logan Campbell erected his tent in 1840 after learning that Auckland was to become the capital of the colony!
The new Commercial Bay features the highest concentration of quality retailers and diverse food and beverage outlets in the city and a stunning 39 level office building, the new PwC Tower.
The three-level retail precinct at the base of the tower is a laneway design that is very different from anything else Auckland has to offer.
Linking together the area's primary existing buildings, it creates a locale with a working population of 10,000 people.
Intelligent Environments were contracted by Electrix to provide the lighting controls for this transformational project, opening June 2020.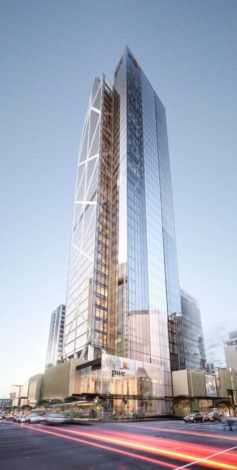 Our task was to design and commission a lighting control system for office levels 9 to 39 (tenants including PwC, Minter Ellison Rudd Watts, DLA Piper, FNZC, etc), and the lower levels encompassing the retail areas and car parking.
The entire system is Rapix DALI, including the emergency lighting system. This vastly simplified for the electrical contractor the task of running cables. DALI requires only a two-core cable which can be run with the mains, with no separation required, and no other BUS cables needed. In a building this large, where kilometres of cable must be installed, this was a significant benefit for the electricians.
Peripheral devices such as sensors and switches also all reside on the DALI system. Audiovisual interfacing allows each tenant to link with their individual AV set-ups.
Daylight harvesting in zones under 100m2 meet GreenStar requirements. The lighting control system interfaces with the HVAC to allow zones to be turned off when the DALI sensors report no occupancy is detected.
Precinct Properties have full, cloud-based control of retail zones and schedules which allow them to control and edit programming functionality as needed.
With a property of this size, the maintenance and testing of the emergency lighting system could be very laborious and time-consuming. However, the Rapix DALI system installed in Commercial Bay can test itself – and then report on any maintenance issues that require following up. As the testing is automated, it can be scheduled at safe times that do not put building occupants at risk should a mains failure occur following a test.
Intelligent Environments were also contracted separately by other electrical contractors to provide the controls for various tenancy fit-outs in the dining spaces such as Saxon and Parole, Ghost Donkey, Poni Room, Imbibe Bar and Harbour Eats (26 food outlets).
Additionally, we have provided a full audio solution for the Level 7 Sky Lobby in the new PwC Tower. The Sky Lobby provides a hotel-style environment, with airy, light-filled spaces, and quality food and beverage, designed to be the welcoming heart of the commercial office community. Providing a seamless digital experience, it is the ideal space to meet clients or colleagues.