DALI+ (Wireless DALI) Launched by DALI Alliance
The DALI Alliance has launched DALI+, a totally new brand that denotes DALI over wireless and IP-based networks.
DALI+ devices communicate using existing DALI commands, but these are carried over a wireless and/or IP-based medium rather than the dedicated pair of wires used by DALI-2.
Benefits of DALI-2 Available with DALI+
Little has changed in terms of the standard protocol. Users still have access to the same comprehensive sets of data from control gear, luminaires and sensors regardless of whether their system is wired or wireless (DALI-2 or DALI+). However, the new DALI+ brand can be used to separate products from those that can't communicate wirelessly or over IP-based networks.
New Specification
A new DiiA Specification has been published which supports DALI+. It is entitled "Part 104 Changes and Additions" which updates the published Part 104 of the international IEC 62386 standard. (AUS/NZS62386-104). The first certification program of interoperable DALI+ devices will be DALI+ with Thread, an IP-based, low-power, wireless mesh networking protocol.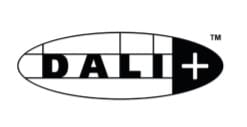 The DALI Alliance explain that the introduction of DALI+ "ushers in a new era of seamless, industry-standardized lighting control."
That will make installation much easier for contractors who are used to working with data cables, or for those products that would otherwise be difficult to get DALI wires to.
In combination with a wireless carrier, DALI+ enables true wireless DALI, without any need to translate between protocols. Where access to DALI wired subnets or luminaires is required from the DALI+ wireless network, the new specification also supports bridges.
Scalable With End-to-End Security
With pure wireless DALI, without any requirement to translate between protocols, lighting solutions can more easily scale to building-wide networks, or across multiple buildings. IT systems and building automation services (including lighting control) can now operate on a common IP-based networking platform allowing easy connectivity to other applications, unlimited scalability, and end-to-end security.
Utilising all the existing features of the DALI-2 protocol, DALI+ networks connect controllers, sensors and luminaires to enable real-time monitoring of energy and power usage. Access is then easily managed for diagnostic information of connected devices, allowing predictive luminaire maintenance, monitoring and testing of emergency lighting, and general preventive maintenance of the lighting and emergency systems.
Increased Flexibility
The flexibility of a wireless solution makes it easy to add sensors or new luminaires to an existing DALI-2 project, and equally simple to re-locate DALI devices for a refurbishment.
When a retrofit solution is required, doing away with the need to run data cables through walls, ceiling or floors will be a significant saving of time and money.
For new buildings, there will still likely be a preference to use wired network connectivity. Wired systems offer predictable network behaviour and avoid potential connectivity issues that some systems have experienced in a built environment. The DALI wiring is simply installed along with the power cables.
Increasingly, however, the solution put forward may be a "hybrid" system. This could be a wired DALI lighting control system, alongside a wireless system for the DALI emergency lighting, for example. The benefits of both systems are combined, on the same software.