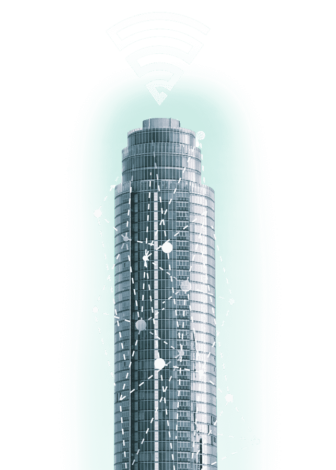 DALI's Contribution to IoT Lighting Control
In an IoT world, DALI has a lot to offer. The connectivity requirements of IoT-based lighting control applications are constantly evolving but the advantages DALI as a lighting control system brings to the table are considerable. Multiple DALI subnets can be combined for building-wide control, and be connected to other networks such as building management systems (BMS) via non-standardised gateways. IoT lighting control capabilities allow advanced performance monitoring of luminaires, including energy usage, predictive maintenance, asset tracking and indoor navigation.
DALI-2 is also currently the only lighting control standard for New Zealand.
Additional enhancements to DALI are continually emerging that support the growing adoption of this open protocol into an IoT world.
Wireless Connectivity
Currently, a major enhancement is that DALI can offer both wired and wireless connectivity. This allows the industry greater choice to provide a better fit solution depending on the specific requirements of the project.
The DALI Alliance has launched DALI+, a new brand that signifies DALI over wireless and IP-based networks.
DALI+ devices communicate using existing DALI commands, but these are carried over a wireless and/or IP-based medium rather than the dedicated pair of wires used by DALI-2.
A new DiiA Specification supports DALI+ entitled "Part 104 Changes and Additions" which updates the published Part 104 of the international IEC 62386 standard. (AUS/NZS62386-104)
The flexibility of a wireless solution makes it easy to add sensors or new luminaires to an existing project, or to re-locate devices for a refurbishment. In a retrofit situation, doing away with the requirement to run data cables through walls, ceiling or floors can be a significant saving on time and expense.
For new buildings, there will still likely be a preference to use wired network connectivity. Wired systems offer predictable network behaviour and avoid potential connectivity issues that some systems have experienced in a built environment. The DALI wiring is simply installed along with the power cables.
Increasingly, solutions are proposed that offer "hybrid" systems. For example a wired DALI lighting control system, alongside a wireless DALI emergency lighting system. This combines the benefits of both systems on the same software.
DALI Wireless
When a wireless system is required, we would always propose DALI+, as this allows devices to communicate using existing DALI commands carried over a wireless medium. As the DALI devices form the wireless network there is no need for translation between protocols, and the same comprehensive control features are available as with DALI-2. Read more about DALI+
The DALI Alliance, and the zencontrol system we propose, support DALI with Thread as the underlying carrier. Thread is an IP-based, low-power, wireless mesh networking protocol.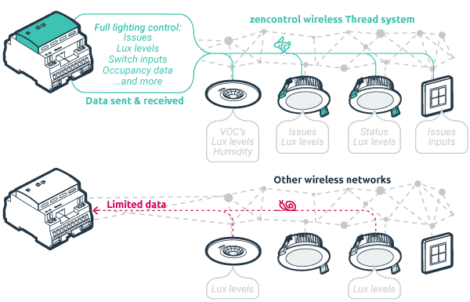 zencontrol Wireless DALI Lighting Control
With IEC62386-104 over Thread, a zencontrol system provides full functioning, no-compromise lighting control.
Full Bandwidth Control
Where other wireless networks struggle to provide this benchmark, relying on tricks and workarounds to achieve basic lighting control, a zencontrol wireless system offers the same features, capabilities and reporting as found on wired DALI networks – without limitations!
Full Functionality
All the features of a zencontrol wired system work and operate in the same manner with our zencontrol wireless system (IEC62386-104 over Thread):
As above, this allows for a seamless "hybrid" system where required i.e. part wired, part wireless.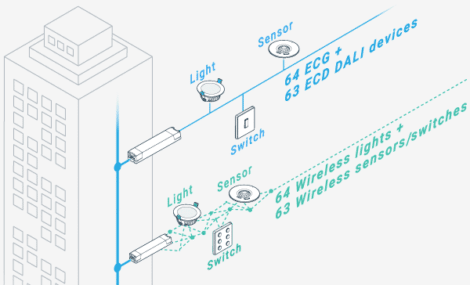 Manageable networks
This wireless infrastructure is deployed in the same manner as DALI-2 with a maximum of 64 ECGS (lights/relays) and 64 ECDs (switches/sensors) per network. Each network is connected to an IP gateway which provides an Ethernet backbone between all wireless networks.
This approach allows for:
Standardised deployment and design, as the systems have the same building blocks;
An easy approach to fault management – installers only concentrate on small networks;
Easy quoting and specification as the design follows that of DALI-2;
Better security as each network is firewalled.
Updates
All zencontrol wireless devices are updateable through the zencontrol Cloud infrastructure, allowing the products to become forwards compatible with new updates or additions to the standards.
The ability to securely update zencontrol wireless devices also allows for security patches to be deployed increasing future security of the network.