Office Lighting Control – zencontrol DALI-2 – Levels 23/24 HSBC Tower
The HSBC Tower, built 1971, remains one of New Zealand's premium commercial buildings, offering uninterrupted views of the Waitemata Harbour.
It is connected via airbridge to new + vibrant Commercial Bay; home to 120+ local and international retailers and restaurants. Auckland's major transport connections are just a few minutes' walk.
Part of Commercial Bay precinct, occupiers of HSBC Tower experience a unique and valuable office environment. Colliers have located their Head Office on the 23rd & 24th levels.
From this prestigious location Colliers offer brokerage and commercial property services and provide a home to senior management, key Auckland brokerage and project teams and Colliers' Capital Markets sales team handling some of New Zealand's largest commercial property transactions.
The re-furbished floors were designed to reflect the vibrant attitude and professional strength of the Colliers brand, people, and ambition.
The heart of the business is represented through the collaborative, co-working area + social hub which covers 1/3 of the floor space. Meeting suites intended to host auctions and events, as well as traditional meetings, provide dramatic harbour views.
A triangulated core gives opportunity to use natural light as it travels across the building. Spaces contrast from limestone floors set against raised floors of distressed timber, to lush green planting giving way to fluted timber and polished, rendered walls.
The specification for the office lighting control required that "All systems shall be designed and built to a high quality and in a way that will provide resilience, robustness and reliability."
Types of light fitting were many, and varied, with lighting of the areas where darker, and less reflective materials were used, presenting a challenge. The intention for the lighting, with the benefit of the DALI-2 control system, is to enhance the design goals whilst ensuring task lighting is fit for purpose.
The biggest challenge was the unsuitability of certain light fittings when installed, the necessity of swapping them out and trying alternatives, plus additional light sources that were added to provide desired levels of luminance in areas with less natural light, and few reflective surfaces.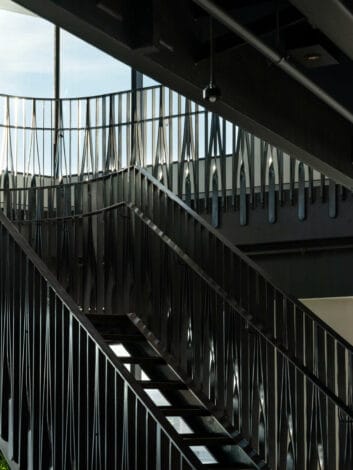 The office lighting control is provided via a zencontrol DALI-2 system with a mixture of application controllers and room controllers. As this was a refurbishment of an existing building, DB space was limited. Most of the controllers were supplied as room controllers which could be mounted in ceiling space or cupboards adjacent to the local area. A specific scene and schedules was also provided for the "living" greenery, ensuring sufficient light to thrive, and appropriate on/off schedules to mimic natural daylight.
The precise dimming and colour changing capabilities of the DALI system were also integral in allowing the design objectives of the space to be met.
DALI provided the ability to graduate and with the zencontrol system allow client adjustment (including via phone app) of light levels across the two floors. This maximises on Warren and Mahoney's design which focuses on the use of daylight, and the transitioning of dark, natural materials through to restrained, refined detailing. The transitions in materiality enable a clear delineation between spatial functions and the specific needs of the users, and the gradient in lighting further enhances this effect.
Lighting scenes could be created to enhance the very different individual spaces. Using differing light levels in this way creates a vibrant feel for the collaborative area and Social Hub. Plants and greenery in these areas have been lit specifically to ensure sufficient lighting for the plants to thrive. An individual time schedule for the "green spaces" is also provided to ensure the plants receive the desired levels of light exposure.
Lighting a creatively designed interior can be tricky. Luminaires specified, may be selected from product brief alone. Once installed, it is not uncommon for the lighting designer or client to reject them, their performance not meeting the needs of the space.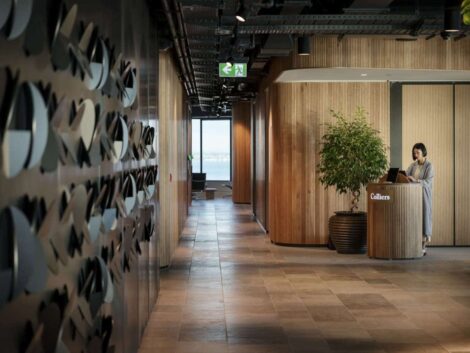 With this project, an extremely creative design was proposed and built to meet the client's exacting standards. The lighting design for this space, with varied textures and differing needs was not easy. The information provided initially by the lighting supplier was limited. It is fortunate that with DALI-2 drivers and controls specified, this did not delay the electrical contractor from cabling the floor levels. As always, when limited information on light fittings, drivers, etc is available, the Intelligent Environments Ltd (IEL) team, ensure there is sufficient redundancy on DALI lines to accommodate changes and additions, and show this on the cabling design provided to the electrical contractor.
The flexibility of the DALI system gave the integrator the ability to duck and dive, change functionality, add additional DALI devices to DALI lines post the initial installation, and generally respond to the challenging and evolving needs of the creative design brief for this building. This became the key feature of this project.
Various lighting fittings were swapped out when they didn't perform as anticipated. Additional luminaires were also added throughout the project to provide extra light sources and increased light levels where necessary. Using DALI, IEL could be agile, able to adjust and add devices to the already installed DALI lines. In many cases support was provided remotely, creating the customised individual spaces and end-results required by the client when fine-tuning their office lighting control system.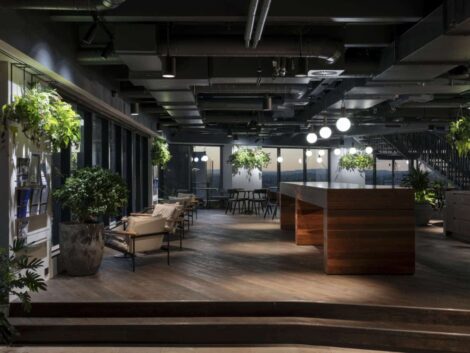 DALI was the obvious choice when decisions were made on lighting, and the control system to be used. It was chosen for these reasons:
1. In November 2020, DALI was adopted as the lighting control standard for Australia and New Zealand. At time of writing, it remains the ONLY lighting control standard.
2. Due to its versatility, ease of integration with specialist lighting systems such as DMX, and monitoring/reporting capabilities via two-way communication with all DALI devices, DALI was already the system of choice in the adjacent, and very new, Commercial Bay, and the new PWC Tower.
3. The building owners, Precinct Properties (also owners of Commercial Bay and PWC Tower) demand the best available system for their buildings, with security and future proofing capabilities built in.
4. Ease of installation for the electrical contractor as no segregation required from mains cabling, and a single line for both control devices and luminaires.
5. There was very little information available initially regarding the lighting design and required functionality. DALI allows control of lights individually or grouped as required (even overlapping groups) so the electrician could proceed with DALI cabling, knowing the functionality could be programmed later, with no requirement for changes in wiring structure.