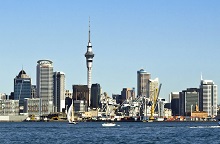 Office Lighting Control
CP Electronics stand alone sensors were recently used in a two floor suite of offices in Central Auckland to provide this prestigious law firm with automated office lighting control for the comfort & convenience of staff and clients, but also for energy savings.
The 230V sensors were installed by the electrical contractor and then programmed from floor level via the simple to use handset. The sensors work 'out of the box' but parameters such as desired lux level, time delay, etc can the be configured to suit the application.
Occupancy detection, daylight harvesting and ease-of-use were the requirements for this particular project. The electrical contractor was seeking cost savings in avoiding installation of a full office lighting control system, but still required full functionality.
Combination microwave sensors with DALI outputs provided both occupancy and lux level controls for daylight harvesting. PIR 10 amp switching sensors provided control for the smaller utility rooms and service areas. The electrical contractor was surprised to discover how easy it was to implement the solution, and how simply the sensors could be adjusted from the hand held programming tool. Intelligent Environments Ltd provided support with an early concept design, supply of wiring diagrams, and extra technical support where needed.