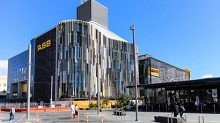 Commercial Lighting Control System:
Building is now complete for ASB bank's new head office located in the Wynyard Quarter redevelopment on Auckland's waterfront with a 'five Green Star rating' for excellence in sustainability, awarded by the New Zealand Green Building Council.
Intelligent Environments were contracted to work with the electrical contractors to provide and commission the lighting control system associated with this exciting project.
The building was designed to use substantially less artificial light with a giant reflector on the roof to reflect natural light from all angles, and disperse it throughout the structure. The lighting controls then make the most of the natural light available, and supplement with artificial lighting only when necessary. (Read more about 'daylighting', 'daylight harvesting' and 'maintained illuminance.)
The requirement to program more than 2000 DALI light fittings and over 500 intelligent sensors, gives some indication as to the size of the project. The lighting control system also has direct communication with the building management system, including security and a state of the art AV system.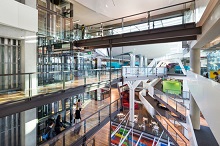 With 18,000 square metres of modern, airy office space this landmark property was designed to suit modern workplace philosophies and features significant sustainable design elements. ASB North Wharf is located on 6,800 sq metres on the corner of Jellicoe & Halsey Streets, and sets the bar high for other developers looking to create sustainable, desirable workplaces that will stand the test of time.
"Sustainability is a central theme in the wider Wynyard Quarter Precinct development, and ASB is also committed to ensuring the area's long-term environmental, economic, social and cultural success," says ASB Chief Executive Charles Pink. "The distinctive cone at the top of the building is sustainability driven. But it's also an echo of the fabric of Auckland in the volcanic cones that so dominate the Auckland landscape."
Download ASB case study for more information on this project.