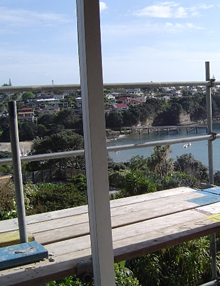 Sea views are becoming harder to find. When you are lucky enough to find a section that offers views and proximity to beaches, it is obviously important that the house to be built is deserving of such a position. The home, currently under construction on North Shore's Mairangi Bay, is the result of careful planning and design, to make the most of the 'rare as hen's teeth' section, and to provide the high level range of features and conveniences that the owners demand.
Intelligent Environments Limited were pleased to be asked to design and commission the lighting control and the audio visual system for this residence. Although the home automation relates principally to lighting control, it also incorporates control for the undertile heating and towel rails, operation of gates and garage doors, control of window blinds and garden irrigation.
Intelligent Environments Limited were called in during the planning stages and having created a fully customised home automation design, were able to provide circuit lists, cabling diagrams and connection schedules for the electrical contractor. The home owners have opted for 'Ocean Mist' glass fronted Saturn style C-Bus switches throughout, with a touchscreen in the same style, providing schedules and master control. Sensors are to be used in several key areas which will allow for automatic switching of the lights when movement is sensed, and will also ensure lighting is turned off once the area is vacated.
The use of appropriate sensors can contribute hugely to the safety and comfort of a home (no stumbling around in the dark for instance, to find light switches in a corridor), but also if programmed optimally, can achieve significant energy savings.