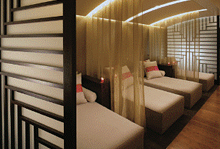 High level design and programming was required for this project as each consulting room was to be used in a variety of different ways.
Intelligent Environments Limited were called in by the electrical contractor to provide the level of expertise required to enable sympathetic lighting control to supply the soothing, relaxing environment demanded.
Clipsal Saturn style touchscreens and input switches blend with the décor to ensure the interior design is not compromised.