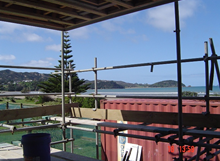 The 'kiwi bach' continues to appear on the list of wants for most New Zealand families. These days however, many want to ensure that the 'sun, sand & sea' are experienced from a second home that offers the comforts and convenience of the first!
Intelligent Environments Limited have been asked to design and install a home automation system for a brand new holiday home currently under construction in Doubtless Bay.
The house has been cabled with C-Bus Category 5, 4 pair, UTP cable which will enable (with connection to appropriate C-Bus units) scene control of all lighting circuits, control of underfloor heating (timeclocks and schedules), towel rails, hot water and water pump, powerpoint control of 'beer fridge' and irrigation control.

The home automation system has been designed to allow for remote control of the home, by the Auckland based owners. Before they commence their long drive North on a Friday, they can access the home automation control system to ensure that when they arrive, the house will be ready to welcome them: dependent on the season, the air conditioning, or heating will have brought the house to desired temperature; the water will have heated to ensure hot showers before bed; exterior lighting will be illuminated on arrival to provide safe pathways of light to the entrance hall; and the wine or beer will be cooled ready to drink!