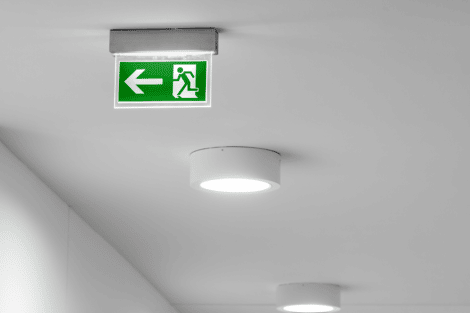 In New Zealand it has been common for emergency lighting to be a stand-alone system, running completely independently of lighting control, often with very basic mechanical timer testing and usually no automated reporting or alert system.
Overseas, the preferred systems are those that allow full software reporting and scheduling. Incorporating emergency lighting into a DALI lighting control system allows for a complete and seamless monitored solution for much easier compliance.
New buildings should be looking at the technologically advanced system such offered by DALI emergency lighting, and included as a category in the AU/NZ Lighting Control Standard under AS/NZS 62386-202.
The Standard enables emergency fittings to be incorporated into DALI networks thereby removing the need for a separate emergency monitoring system.
Another benefit to using DALI emergency lighting is that when used in conjunction with standard DALI devices it reduces wiring. In addition, the joining of two independent control systems (emergency and normal) into a single control system decreases installation and maintenance costs. The ability to monitor both emergency lighting and normal lighting in one step can lead to a safer and more dependable lighting solution.
Alternatively, a DALI emergency lighting system can be supplied as a totally independent, stand-alone solution. This provides a cost-effective, fully-monitored emergency system that has much greater capability than a traditional monitored system.
Regardless of whether the system is to be stand-alone, or integrated into a building-wide DALI-2 lighting control system, we always recommend zencontrol with the confidence that it is currently the ONLY control system that is compliant with the AS/NZS 62386 suite of standards for both input and output devices.
By utilising a DALI system in a building, a fully functioning lighting control system can be implemented with full user control interfaces eg sensors, and other dali components, all working alongside the Emergency Lighting as an all-in-one complete solution. Simply common sense, surely?