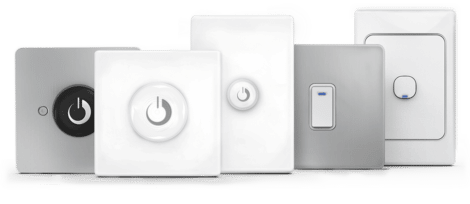 Controlling lighting does not have to be overly complicated. When simple standalone lighting control is required we can supply DALI-2 switches and sensors that allow automatic control of DALI lighting out of the box. No controllers are required, and no programming.
When there is minimal budget for lighting controls, this solution can still meet your customer's requirements, but also has the flexibility to change if necessary to meet future needs.
You can wire in multiple switches and sensors to the same installation and they will work together seamlessly.
No programming/commissioning is required to provide instant dimming and occupancy control.
Switches are available as standard push-button or rotary dimming.
Sensors will provide presence detection.
The addition of a relay can provide control for fixed loads such as fans or pendant lighting.
Scene-set switches can also be set up for three pre-set light levels e.g. 25%/50%/75% as well as on/off. You can even control tunable white lighting easily with our scene-set plates (warmer/cooler and brightness).
All of our switches and sensors work with DALI-2 compliant drivers (which should be available from the lighting manufacturer). DALI-2 compliant drivers can provide superior levels of lighting quality, with flicker-free, precise control and soft start features.
IMPORTANT: When ordering your lights, ensure you request a DALI-2 driver.
Best of all, when budget allows, the addition of an application controller to the previously 'standalone lighting control' will unlock more advanced building features.
View our DALI standalone lighting applications in our online store.