About Intelligent Environments Ltd
Introducing Intelligent Environments NZ
"But what do you do?" is the usual question when mentioning our business.
Digital Boost recently interviewed our General Manager, Rebecca, about exactly that. So for an overview of Intelligent Environments and the technology we use, please see the video interview below:
Digital Plus Interview with Rebecca Harris, GM of Intelligent Environments Ltd
So to summarise:
An 'intelligent environment' is one that responds, almost intuitively, to the needs of those using the space. Intelligent Environments, as your 'building technology partner', specialises in creating smarter buildings!
We are a family business with a focus on being a 'business for good'. We strive to consistently be good to people, to do the right thing, and to have a positive impact on others. Our reputation is important to us and we are known for our honesty, transparency and authenticity. We believe these elements are reflected in our company's key values.
Paul and Nikki set up the company in 2007. Nikki's experience in corporate roles enabled her to pick up the reins as CEO, taking responsibility for the strategic direction of the company, the financial management, and overseeing the marketing. Paul's many years of experience and multiple contacts in the industry (including management roles with leading manufacturers/suppliers of lighting control and automation systems) allowed him to focus on sales, on relationships with suppliers and customers, and on growing the business to become a leading and well-respected player in today's market. Daughter Rebecca was 'head hunted' early on from her previous project management role in telecommunications, and is considered the technical wizard of the family. She designs and prices the varied technical solutions the company employs, and oversees the implementation of appropriate technology, with a team of engineers to back her up. More recently she has stepped into the role of General Manager.
The company considers its success is largely due to its roots as a family business. The Harris' strong family values are mirrored in the culture of the business which has expanded to include a team of fifteen working country-wide. This is a company where everyone is treated like family, where staff genuinely care about each other and their customers, and where 'the team' works together to make the magic happen! Old-fashioned ethical values, in a modern technologically advanced industry!
Introducing Our Team
One important area of Intelligent Environment's expertise is in bridging the gap between the client's wants, and the contractor's ability to provide.
"If it matters to our clients, it matters to us!"
The IEL team are second to none when it comes to selecting the appropriate technology for a project, and managing the design and installation process.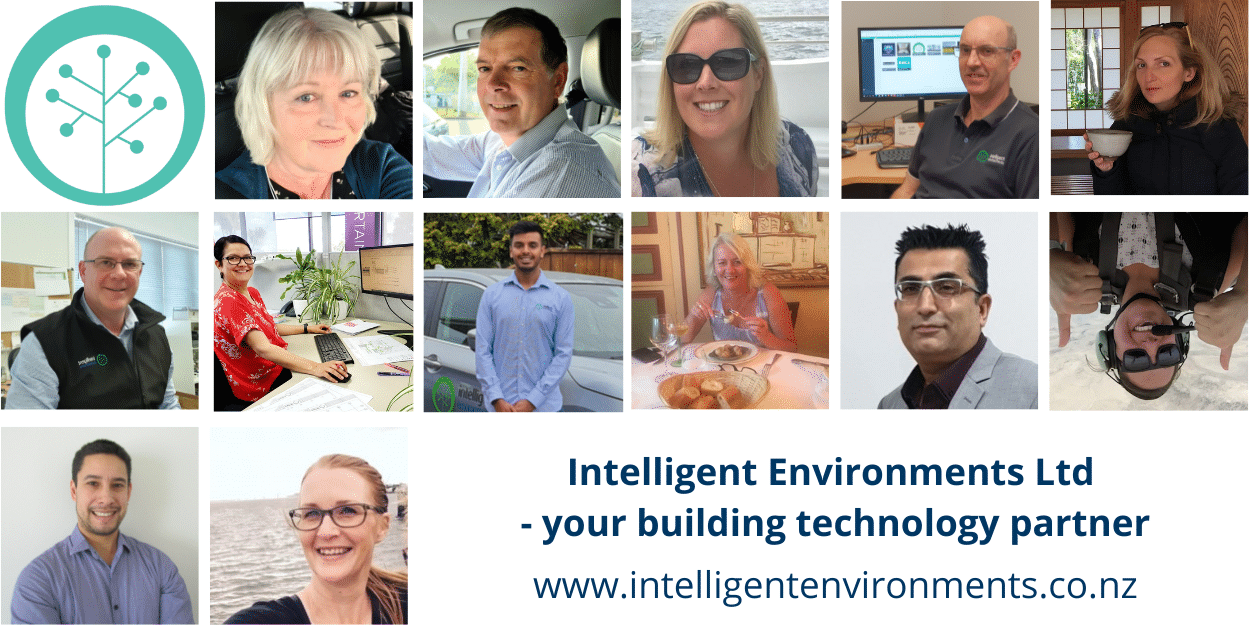 In order to provide that "innovative, and best solution" Intelligent Environments have worked with numerouse controls products over the last 15 years. They were early adopters of DALI, appreciating the benefits this open protocol had to offer, particularly the advantages for the end-client who are no longer "handcuffed" to a single supplier or manufacturer. In November 2020 the DALI standard was adopted in its entirety as the lighting control standard for New Zealand and Australia. In order to be compliant, any new lighting controls installation should therefore be DALI-2.
Intelligent Environments put a great deal of energy in educating and assisting to ensure consultants and electrical contractors are knowledgeable about the new lighting control standard, and the huge range of benefits that a native DALI system can offer.
Projects are varied, including very large to somewhat small! Innovation provides the opportunity to offer the client 'more' for 'less'. Only products that meet the company's exacting standards in terms of value for money, reliability, and level of support, will find a shelf in the stock room. The team focuses on providing the best possible solution for every client, and every budget!
Demand from customers has led to growth with representation now in the areas of Auckland, Wellington and Christchurch.
The energetic Intelligent Environments NZ team, work with clients, architects, builders, and electrical contractors to develop a fully integrated package of lighting, security, HVAC, audio-visual, and much, much more.