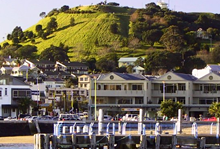 Intelligent Environments Limited are often called upon to "troubleshoot" and "problem solve" on tricky installations.
The multi-level house in Devonport had been supplied with a C-Bus system following a retro-fit. Various technical difficulties ensued, in particular with complex control of the heating system.
Intelligent Environments Limited were contracted to "debug" the programming and set up the heating system to meet the clients' requirements.