What is a Huddle Space?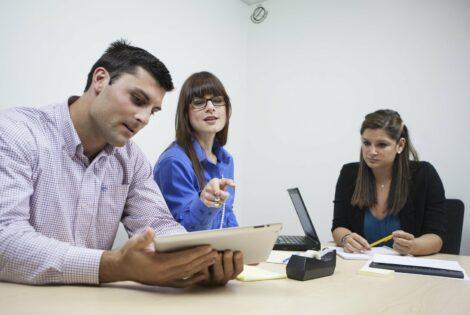 Any conversation around collaboration technology must surely include a discussion around what constitutes a huddle space.
The surge of millennials entering the workforce has forced many businesses to re-look at how technology is used in the workplace.
These new employees are accustomed to accessing all kinds of technology from every environment: from home, school, work . . . and while travelling between! Their expectation is that their work environment will resource them with 'essential tools' such as laptops, tablets, smartphones etc and also accommodate BYOD (bring your own device).
This expectation has prompted business owners and workspace designers to re-examine how space is allocated, and to 'lose' some conventional 'conference' type spaces, in favour of more informal 'huddle spaces' to handle impromptu meetings, and to provide a temporary 'home' for employees without a permanent base in the office.
Creating a Huddle Space?
Huddle spaces can be created within open plan areas, by clever use of furniture and screens, or may be 'huddle rooms' separated from the main work areas. Of paramount importance however is to determine the common use for the room and decide on a technical spec to suit. Without doubt the most effective huddle spaces are those that have been designed around the technology needed, rather than incorporating technology into the room after the fact! Involving a technology integrator early will not only ensure the most effective use of space/technology, but will help avoid costly pitfalls incurring back-end expenses.
Simple tools such as webcams, USB speakers and table top or wireless connectivity can add dramatically to the flexibility of the space, and the resulting productivity.
Well designed wireless huddle rooms will enhance collaboration with participants able to view multiple screens simultaneously, including mobile devices; BYOD is managed seamlessly with wireless connectivity; and the space remains uncluttered as wireless technology eliminates the need for trailing cables and cords.
Intelligent Environments Ltd are pleased to offer our services for the integration of huddle space or meeting room technology. We can assist with establishing your needs if required, recommend and/or source any equipment required, and set up and program the technology to provide optimum effectiveness and ease of use. Call us for a free consultation.