Audio visual technology includes all the elements we interact with at home in an audio or visual way.
If your family like to turn up the volume when you're watching a movie, or enjoy get the music pumping when you're having a party, it can be a bit tricky hearing the phone or the doorbell ring! With smart home technology the movie or music can be set up to pause temporarily while the phone or the door gets answered, and then to resume on command once callers or visitors are dealt with.
So much content can be made available via your AV system: streaming music, downloadable video, movies stored on hard drives, old favourites on CDs or DVDs. It's a lot to go through every time you want to find something.
By linking the audio visual technology in your home with your home automation system you can scan through all your entertainment options via the same touch panel or tablet that you use to control your lighting and the blinds!
The screen can be set up to provide an engaging and interactive interface to view your video and music sources and library, and can allow you to launch commands to draw the blinds, dim the lights, and start the movie!
In large rooms where TV viewing may be from several different spots, a full motion TV mount is usually employed. By using a mount that is motorized and can be integrated with the AV and home automation system, it can be controlled using the same interfaces as above.
---
Multi Room Audio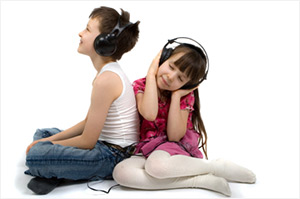 To enable music to play in multiple rooms or areas through your home, it makes sense to allow for an MRA system when you are building or renovating.
By ensuring cabling is installed at the appropriate stage, flush mounted speakers can be installed unobtrusively, even invisibly, in the ceiling or walls of the rooms or zones where music is to be enjoyed. Speakers can also be installed outside of the home to enjoy music in your outdoor entertaining areas.
Your music system can then feed tracks from your stereo system or music server to the speakers in selected rooms. You can even stream music from your phone, tablet or computer to any or every room in your home system. Share your favourite playlist from iTunes, and let your family or guests connect and share too!
Wireless music streaming systems are also available. The new technology that some of these systems offer are now making them a viable, and very portable solution, for any residence . . . more.
---
Hi Definition TV Distribution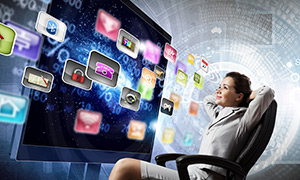 HDTV (high definition TV) has quickly become the accepted 'standard' for viewing movies and many TV programmes. In a modern home, a common requirement is to be able to view HDTV from numerous rooms in the house.
There are a variety of different ways and different products to allow distribution of a high definition TV signal throughout your home (also called "multi room video").
It is important that time and consideration be given to this subject when planning the cabling for a new home, or the refurbishment of an existing one.
An HDTV distribution system should allow you to select, watch, and control all media devices such as SkyHD, DVD, Blu-ray, video or music downloads, and more, on every HDTV located in your home. This means everyone can enjoy their own choice of entertainment, in different areas of the house, at the same time, with the same level of picture and audio quality.
---
Media Room/Home Theatre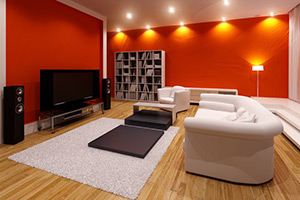 You may have a dedicated media or movie room, or another area of your home such as a sitting room may 'transform' to become a home theatre as and when needed.
When a room is 'multi-use' some home owners prefer to have a TV screen on the wall that is covered by a piece of artwork, or a mirror. When the 'TV' or 'Movie' scene is selected, the artwork or mirror slides back to reveal the TV. Or a projector and screen may be hidden away in a recessed area above the ceiling. The screen and projector lower into place when a movie is to be screened.
With a dedicated media room, the goal is often to provide that "big-screen movie experience" and the projector, screen, and surround sound audio are chosen accordingly.
Your 'TV' and 'Movie' scenes will of course include control of drapes/blinds and lighting, so one simple command sets the room up for optimal viewing.
The content for your home theatre experience may come from various sources: live or recorded television (Freeview or Sky), Blu-ray player, DVR, or Apple TV, for example.
---
Outdoor Entertaining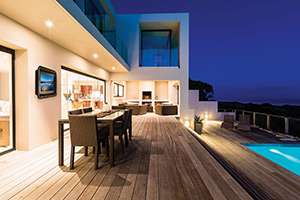 We are fortunate in New Zealand to have a climate that allows us to make the most of our outdoor living areas.
Many homes have outdoor entertaining areas with facilities to rival those indoors.
Certainly it adds another element to the home when living can flow beyond the confines of the building to incorporate decks or verandas, loggia, pool areas and gardens.
Music
If your family enjoy listening to music, it makes sense to incorporate your outdoors living area into your homes multi zone or multi room audio system. Relax in the pool with your favourite sounds, or boogie into the night as the pace picks up!
TV
Television viewing can be inexpensively included in any outdoor living area. The TV Shield® can protect a standard flat-screen television from the weather, accidental damage, and theft.
Your outdoors TV can be connected similarly to your TVs within the house, enabling the selection from different resources such as live and record television channels, DVD or DVRs, Apple TV, etc.
Invite the boys round to watch the rugby on the deck, and keep the mess confined to outside the house! Enjoy a relaxing soak in the spa while watching that romantic movie! While the adults enjoy a civilised dinner, let the kids boogie round the pool to the latest music videos!
Water Features
Let smart home technology look after the routine tasks in maintaining your pool – automating schedules for pool pumps and cleaning for instance, easy control of pool covers and so on.
Water features and other outdoor points of interest can be included in 'scenes' so that they come on, or are spot lighted, at appropriate times.
Landscape Lighting
Incorporating lighting into your garden design, and allowing your home automation to control outside lights, will enable a multitude of additional benefits. These include the ability to provide:
Safe pathways of light after dark for family and guests;
Security elements to light up the area if an intruder is detected;
The highlighting of key areas of the garden, or outdoor artworks, for the enjoyment of your guests;
Task lighting, with scenes set up dependent on the use of the area, e.g. "Entertaining", "Spa", "Sport".