A major upgrade to the premises at 1016C Great South Road, provided the opportunity to deliver a simple but elegant solution for the new offices and boardroom of Degree Air Conditioning & Electrical in Penrose.
Intelligent Environments Ltd were contracted to design and commission a Boardroom AV solution along with a DALI system to control all internal office lighting. DALI relays were also allowed for control for signage, and for 'last out' control of any lighting not included in the control system.
The simple but effective design for the lighting control allowed for scene set switches and DALI PIR/lux sensors to allow local dimming control with the sensors operating via both presence and absence detection.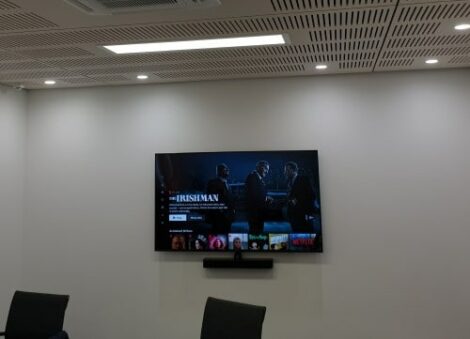 The lighting control system has full integration with the Boardroom AV solution which includes:
The mounting of the client's existing screen with a new AMX Acendo Vibe conferencing soundbar with AMX Control Pad, plus all associated network infrastructure and equipment. High-level integration was provided with the lighting control system in the Boardroom.
Provision of HDMI & USB Extenders to the table enables Degree Airconditioning to use BYODs (bring your own devices) and for users to employ the Boardroom's conferencing camera & microphones with their own conferencing software applications.
In addition an Airtame 2 was provided to allow presentations from BYODs wirelessly to the room display.