"A unique tradeshow for those who design, operate, maintain and upgrade buildings, facilities and infrastructure, or design, install and integrate AV and ICT systems."
Intelligent Environments will be at stand A13 at this year's Expo in Auckland on 3rd/4th November.
Monitored Emergency Lighting
Our main focus will be on demonstrating why monitored emergency lighting systems are the way forward.
We will be showcasing the Rapix intelligent DALI emergency monitoring system that is simple to use, and ensures all compliance obligations are automatically fulfilled.
It is a totally scalable solution, suitable for use in all projects where emergency monitoring is required from the smallest . . . to the largest.
The emergency system can be stand alone, or can simply integrate with your DALI lighting system.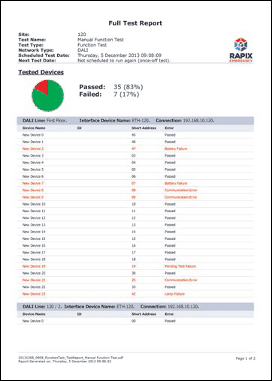 Auto-generate discharge and optional function tests to comply with AS/NZS2293.2 testing & maintenance standards.
Automated maintenance reports can be emailed to appropriate personnel.
Smart Products
As well as sharing our enthusiasm for this exciting development in lighting control, we also have some smart new products to show you:
We launch in New Zealand the brand new PRO Series range of protective TV / Display enclosures. The TVSPro is intended for outdoor use and will protect screens sized up to 80″ from virtually anything. TVSProLite is intended for indoor use where weatherproofing is not necessary, but where defence against tampering, impact damage, vandalism and theft is still required. These new enclosures feature a sleek 'picture frame' design, and will only be supplied for professional installation.
The newest product in our CommandFusion range is the 'Solo' an IP-enabled all-in-one control system. See the Solo and other CommandFusion products at our stand.
Free Entry to Facilities Integrate
For free entry to Facilities Integrate (normal cost $25) download your invitation and follow registration instructions. We look forward to meeting you on our stand A13.